Latvian based Double Coffee offers top quality cafeterias all over the Eastern Europe.
Their jingle, "Double Coffee - brewed properly" is simple yet memorable: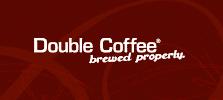 Little can be added to this brand, as the company is featuring itself on the Internet under all possible DoubleCoffee.tlds.
And yet, one can wonder, why would no one utilise the jingle brewed.proper.ly until know.
Domain name proper.ly is still available - so hurry up if you are into proper advertising.
Short link: http://name.ly/~gR07$2P