Not very popular, MyWeekly magazine for women, still can be found on top UK shelves in Tescos, etc: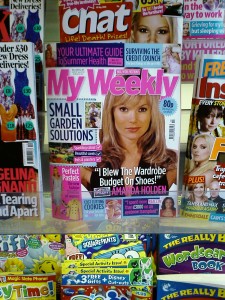 To a markerteer's surprise, it has a very short entry on Wikipedia:
My Weekly is a magazine for women in the 45-and-over age bracket, published by D. C. Thomson & Co. Ltd of Dundee, Scotland. It tends to consist of short stories, reader contributions, knitting or sewing patterns, and celebrity gossip.

It has been in print since at least the early 1940s. Thomson also publishes a similarly named collection of stories entitled My Weekly Story Collection, and an annual at the end of the year entitled The Best of My Weekly.
However, the wiki page provides no link to the web site. Is it that 45 years olds do not look stuff online? These days, it is not a plausible assumption. Googling MyWeekly does not present any leads, but myweeklybuzz.com and myweeklybook.net, which have little to do with the magazine.
Only after direct.ly typing myweekly.co.uk one can accessthe page. Sure.ly a room for another jingle, say my.week.ly is there in the air, though, week.ly is just the best, the shorter it is - the easier it is to look it up.
Short link: http://name.ly/~Buv4$1w