As most jingling .ly names are sold out, you can only acquire one in the secondary market (either private.ly or via a broker, e.g., Sedo), Libyan Spider came up with the new search tool for .ly domain hacks. It will help you searching for short meaningful domain names that end up with "ly" by making sub-domains and checking their availability.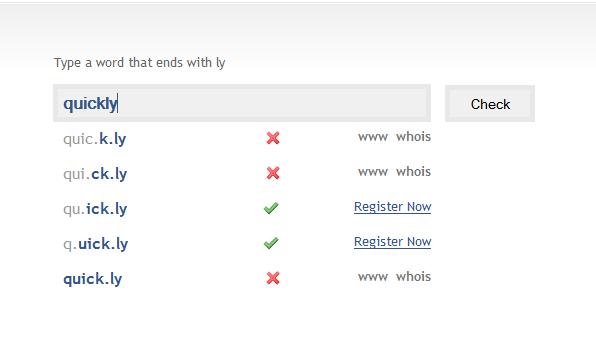 Quickly scanning top 10 English "ly" words: only, usually, family, really, early, probably, slowly, quickly, finally, and carefully only 14 combinations turned up to be still available: us.ual.ly, u.sual.ly, f.ami.ly, r.eal.ly, pro.bab.ly, pr.obab.ly, p.robab.ly, qu.ick.ly, q.uick.ly, fi.nal.ly, f.inal.ly, car.eful.ly, ca.reful.ly, and c.areful.ly.
So, hurry up to secure your cool domain hack.
Short link: http://name.ly/~XH28$23