Another advertisement campaign with a serious word over the banner: "seriously". Unlike the previous one of British Elephant insurance, Dutch guys at Amsterdam Institute of Finance have better perception of the niche targeting.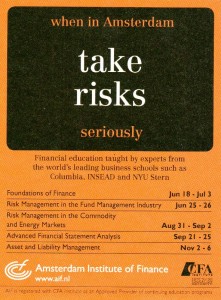 You can see them practical.ly in every issue of The Economist. So they must have enjoyed good learning curve over the past decades indeed.
Sure.ly their services are in demand too. With the number of CFA students this year doubling or be it even tripling, exam passing thresholds are those doubled of the last year too.
Right, niche, proper timing, serious approach too. As they say in Holland: mooi zo kerels!
Short link: http://name.ly/~Fuv4$2J